April 14, 2004
Annan Warns of Rwanda-Style Genocide in Sudan
Reuters
U.N. Secretary-General Kofi Annan warned Wednesday a Rwanda-style genocide may be in the making in Sudan and said international military force could be needed -- a suggestion at once rejected by the Khartoum government.
---
By Thomas Atkins and Nima Elbagir

GENEVA/KHARTOUM (Reuters) - U.N. Secretary-General Kofi Annan (news - web sites) warned Wednesday a Rwanda-style genocide may be in the making in Sudan and said international military force could be needed -- a suggestion at once rejected by the Khartoum government.

The U.N. chief issued his warning in a speech in Geneva on the 10th anniversary of the Rwanda genocide in which about 800,000 died. He left no doubt he feared something similar might be under way in west Sudan, where U.N. officials say "ethnic cleansing" is carried out.

"The international community cannot stand idle," declared Annan, who has himself acknowledged more should have been done to halt the orgy of killing in Rwanda in 1994.

"The risk of genocide remains frighteningly real."

Annan said humanitarian workers and human rights experts needed to be given full access to Darfur, a western region in Africa's biggest country, to administer aid to hundreds of thousands of people driven from their homes, many into neighboring Chad.

"They need to get to the victims," Annan said in his speech to the U.N. Human Rights Commission.

"If that is denied, the international community must be prepared to take swift and appropriate action. By action in such situations, I mean a continuum of steps which may include military action."

Sudan immediately rejected any outside military help but welcomed offers of aid for the region, where the United Nations (news - web sites) is warning of a humanitarian crisis caused by a conflict it says has affected one million people.

"We don't think we need outside military help and we do our best according to the available resources," Sudanese Foreign Minister Mustafa Osman Ismail told reporters in Khartoum.

"All that we want from the international community is that it helps us with more supplies of humanitarian aid so that we can try and help those in need."

REBELS APPEAL FOR MILITARY OBSERVERS

Two rebel groups accuse the Khartoum government of arming Arab militias to loot and burn African villages in Darfur and rebels were quick to urge outside military help.

"We are requesting the international community like the United Nations, or the United States ... just to bring forces here to protect a cease-fire, to be as an observer for what is going to be another genocide and to protect civilians," Sudan Liberation Movement chairman Abdel Wahed Mohamed Ahmed al-Nur told Reuters by telephone.

Sudan's government has consistently refused international involvement in Darfur, saying it is just local tribal strife.

An official from the rebel Justice and Equality Movement said the international community had a duty to send military forces to Darfur.

"Yes of course we welcome this. Due to the conditions in Darfur, (sending troops) is the duty and responsibility of the international community because there is a disaster happening there," Abu Bakr Hamid al-Nur told Reuters.

Two senior U.N. officials have described the killing and looting in arid Darfur as a "scorched earth" campaign and "ethnic cleansing." Both said Khartoum had done nothing to stop the bloodshed.

Annan criticized U.N. member states for lacking the will to act in potential genocidal situations and unveiled a five-point action plan to address genocidal threats worldwide.

The plan includes calling for a review of the ability of U.N. peacekeeping forces to intervene in genocidal situations and to get prompt reinforcements in case of need, Annan said.

"This speech was a wake-up call to the international community," Reed Brody, of the U.S.-based group Human Rights Watch, told Reuters. "The best way to honor the dead in Rwanda and to show that we have learned from our failures is to stop massacres from being carried out in the Sudan."

Peace talks in the Chadian capital, N'Djamena, witnessed a breakthrough late Tuesday as the government for the first time held direct talks on humanitarian aid with the rebels in the presence of international observers, a key rebel demand.

A separate civil war has raged in the south of Sudan for two decades, pitting the region's mainly Christian and animist peoples against the largely Muslim government in Khartoum. Up to two million people are believed to have died.


---
FAIR USE NOTICE: This page contains copyrighted material the use of which has not been specifically authorized by the copyright owner. GlobalIssues.Net distributes this material without profit to those who have expressed a prior interest in receiving the included information for research and educational purposes. We believe this constitutes a fair use of any such copyrighted material as provided for in 17 U.S.C § 107.

The World Revolution is an idea for a new, global grassroots social movement for progressive social change. It aims to resolve in a definitive and comprehensive manner the major social problems of our world and our era.

WORLD REVOLUTION HOME
Other Features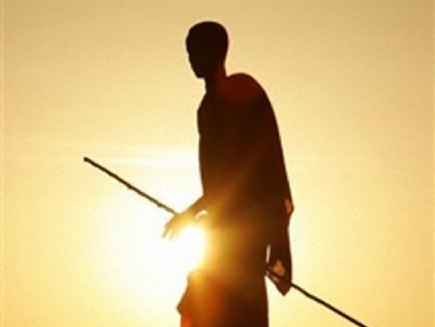 Millions on the brink of starvation in Horn of Africa - UN
Six million people are on the brink of starvation in the Horn of Africa region due to severe drought, crop failure and depletion of livestock herds, the United Nations said on Friday. The U.N.'s Food and Agriculture Organization (FAO) said that in Somalia, Kenya, Djibouti and Ethiopia more than 11 million people are estimated to be in need of assistance.

More features...