September 16, 2004
UK's Tony Blair Advocates Urgent Action to Avert Global Warming
Environment News Service (ENS)
Immediate action is needed to tackle global warming, "the world's greatest environmental challenge," Prime Minister Tony Blair said Tuesday night. Blair called it a challenge "so far-reaching in its impact and irreversible in its destructive power, that it alters radically human existence."
---
LONDON, UK, September 15, 2004 (ENS) - Immediate action is needed to tackle global warming, "the world's greatest environmental challenge," Prime Minister Tony Blair (news - web sites) said Tuesday night. Blair called it a challenge "so far-reaching in its impact and irreversible in its destructive power, that it alters radically human existence."

"Now is the time to act," Blair told an audience gathered in central London for the 10th anniversary of the Prince of Wales' Business and the Environment Program.

"It is now that timely action can avert disaster," he said. "It is now that with foresight and will such action can be taken without disturbing the essence of our way of life, by adjusting behavior, not altering it entirely."

Blair said his government is taking the lead to deal with global warming at home, and he will use the British position as host of the G8 meeting next year to press for concerted action by the world's industrial democracies.

Blair said the British Presidency of the European Union (news - web sites) scheduled for July 1 through December 31, 2005 offers an opportunity to improve the way Europe deals with carbon emissions.

"Cutting carbon emissions is the way the future will be," said Blair, and he stressed that there are "advantages to British industry from early action."

"In Britain and throughout the world," he said, "the expected rapid growth in demand for transport, including aviation, means that we must develop far cleaner and more efficient aircraft and cars."

"I am advised that by 2030, emissions from aircraft could represent a quarter of the UK's total contribution to global warning. A big step in the right direction would be to see aviation brought into the EU emissions trading scheme in the next phase of its development," Blair said. "During our EU Presidency we will argue strongly for this."

Blair believes trading is the most cost effective way to reduce emissions, and he is looking forward to the start of a new carbon trading market across the European Union next year. It will "change the way thousands of businesses think about their energy use," he said.

The Prime Minister views the controversial Kyoto Protocol (news - web sites), an international agreement to limit the emission of six greenhouse gases by industrialized countries, as a small but crucial first step towards controlling what he is convinced is potentially catastropic global warming.

"We are on track to meet our Kyoto target," Blair said of the UK. "The latest estimates suggest that greenhouse gas emissions in 2003 were about 14 percent below 1990 levels. But we have to do more to achieve our commitment to reduce carbon dioxide emissions by 20 percent by 2010."

"However, our efforts to stabilize the climate will need, over time, to become far more ambitious than the Kyoto Protocol," he said. "Kyoto is only the first step but provides a solid foundation for the next stage of climate diplomacy. If Russia were to ratify that would bring it into effect."

From the start of his speech, Blair emphasized the political difficulties of achieving the international consensus to cool an ever warming climate.

"The challenge is complicated politically by two factors," he said. "First, its likely effect will not be felt to its full extent until after the time for the political decisions that need to be taken, has passed. In other words, there is a mismatch in timing between the environmental and electoral impact."

"Secondly, no one nation alone can resolve it. It has no definable boundaries. Short of international action commonly agreed and commonly followed through, it is hard even for a large country to make a difference on its own," Blair said.

He pledged to work towards bringing other countries to act with Britain in ways that will limit global warming.

Blair said he would work with the United States, which under the administration of President George W. Bush (news - web sites) has backed away from ratifying the Kyoto Protocol, signed during the Clinton administration.

"We know there is disagreement with the U.S. over this issue," Blair said of the Kyoto Protocol. "In 1997 the U.S. Senate voted 95-0 in favor of a resolution that stated it would refuse to ratify such a treaty. I doubt time has shifted the numbers very radically."

"But the U.S. remains a signatory to the UN Framework Convention on Climate Change, and the U.S. National Academy of Sciences (news - web sites) agree that there is a link between human activity, carbon emissions and atmospheric warming. Recently the U.S. Energy Secretary and Commercial Secretary jointly issued a report again accepting the potential damage to the planet through global warming," he pointed out.

Blair views the G8 as a forum to encourage the United States to limit its carbon emissions. The United States is the world's largest carbon emitter and is the only one of the G8 nations, except for Russia, that has not ratified the Kyoto Protocol.

Climate change will be "a top priority for our G8 Presidency next year," Blair said. "I do not under-estimate the difficulties. This remains an issue of high and fraught politics for many countries. But it is imperative we try."

Blair outlined his G8 strategy. "First," he said, "I want to secure an agreement as to the basic science on climate change and the threat it poses. Such an agreement would be new and provide the foundation for further action."

"Second," he wants to obtain "agreement on a process to speed up the science, technology, and other measures necessary to meet the threat."

Third, said Blair, "while the eight G8 countries account for around 50 percent of global greenhouse gas emissions, it is vital that we also engage with other countries with growing energy needs - like China and India; both on how they can meet those needs sustainably and adapt to the adverse impacts we are already locked into."

"Given the different positions of the G8 nations on this issue, such agreement will be a major advance; but I believe it is achievable," he said, by promoting the "development and uptake of cleaner energy technologies begun under the French Presidency in 2003 and continued by the U.S. this year."

Blair summarized the evidence of global warming in few words of sharp impact. "The 10 warmest years on record have all been since 1990. Over the last century average global temperatures have risen by 0.6 degrees Celsius: the most drastic temperature rise for over 1,000 years in the northern hemisphere," he said.

"Extreme events are becoming more frequent. Glaciers are melting. Sea ice and snow cover is declining. Animals and plants are responding to an earlier spring," he said. "Sea levels are rising and are forecast to rise another 88 cm by 2100 threatening 100 million people globally who currently live below this level."

"The number of people affected by floods worldwide has already risen from seven million in the 1960s to 150 million today."

"In Europe alone, the severe floods in 2002 and had an estimated cost of $16 billion. This summer we have seen violent weather extremes in parts of the UK."

"These environmental changes and severe weather events are already affecting the world insurance industry," Blair told the conference participants. "Swiss Re, the world's second largest insurer, has estimated that the economic costs of global warming could double to $150 billion each year in the next 10 years, hitting insurers with $30-40 billion in claims."

"By the middle of this century, temperatures could have risen enough to trigger irreversible melting of the Greenland ice cap - eventually increasing sea levels by around seven meters (22.7 feet)," he said.

"There is good evidence that last year's European heat wave was influenced by global warming. It resulted in 26,000 premature deaths and cost $13.5 billion. It is calculated that such a summer is a one in about 800 year event. On the latest modelling climate change means that as soon as the 2040s at least one year in two is likely to be even warmer than 2003."

Blair introduced a note of hope, saying, "There is one overriding positive: through the science we are aware of the problem and, with the necessary political and collective will, have the ability to address it effectively."

"The public, in my view, do understand this," Blair said, noting a recent opinion survey by Greenpeace showing that 78 percent of people are concerned about climate change.

"But people are confused about what they can do," he said, calling on governments and the private sector to present "clear and consistent policy and messages."

Conservative leader Michael Howard is also stressing the dangers of climate change. Speaking to the Environment Forum on Monday, Howard described climate change as the "single most important environmental issue of all."

Howard claimed leadership on environmental issues for the Conservatives and said the UK should use its "privileged relationship with the USA," to "persuade them into the international fold," when "we assume the Presidency of the G8 and the EU next year."

"My concern is that we are squandering this opportunity," said Howard.

"The instinct of our Prime Minister is to lecture other people," Howard said." But on his watch CO2 emissions have actually risen. He has set ambitious long term targets for CO2 emission reductions but few people outside government believe that there is a coherent plan for achieving them."

But environmentalists such as Greenpeace UK fault Howard for sharing a platform with prominent anti-wind power campaigners like David Bellamy, who denies global warming is real.

Blair said Tuesday night that "smarter lifestyle choices" by individuals as well as governments and corporations "can make a real difference."

There are "immense business opportunities in sustainable growth and moving to a low carbon economy," said Blair.

A strongly growing economy and control of carbon emissions can coexist, as the UK has demonstrated, Blair said. "Between 1990 and 2002 the UK economy grew by 36 percent, while greenhouse gas emissions fell by around 15 percent."

Still, there is far to go. "The Royal Commission on Environmental Pollution's seminal report on energy concluded that to make its contribution towards tackling climate change, the UK needed to reduce our carbon dioxide emissions by 60 percent by 2050," said the Prime Minister.

"This implies a massive change in the way this country produces and uses energy. We are committed to this change."


---
FAIR USE NOTICE: This page contains copyrighted material the use of which has not been specifically authorized by the copyright owner. GlobalIssues.Net distributes this material without profit to those who have expressed a prior interest in receiving the included information for research and educational purposes. We believe this constitutes a fair use of any such copyrighted material as provided for in 17 U.S.C § 107.

The World Revolution is an idea for a new, global grassroots social movement for progressive social change. It aims to resolve in a definitive and comprehensive manner the major social problems of our world and our era.

WORLD REVOLUTION HOME
Other Features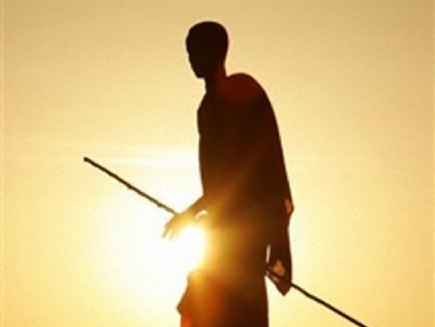 Millions on the brink of starvation in Horn of Africa - UN
Six million people are on the brink of starvation in the Horn of Africa region due to severe drought, crop failure and depletion of livestock herds, the United Nations said on Friday. The U.N.'s Food and Agriculture Organization (FAO) said that in Somalia, Kenya, Djibouti and Ethiopia more than 11 million people are estimated to be in need of assistance.

More features...