October 15, 2004
U.N.: 70,000 Have Died in Sudan Camps
Associated Press
At least 70,000 refugees have died since March because of poor conditions in camps in Sudan's Darfur region, and more will die at the same rate unless countries contribute the $300 million in aid they promised, the U.N. health agency said Friday.
---
By NAOMI KOPPEL, Associated Press Writer

GENEVA - At least 70,000 refugees have died since March because of poor conditions in camps in Sudan's Darfur region, and more will die at the same rate unless countries contribute the $300 million in aid they promised, the U.N. health agency said Friday.

The new death toll estimate by the World Health Organization (news - web sites) is 20,000 higher than one it released last month.

The estimate of deaths in and around the camps only covers the period since aid agencies have had access to the western Sudan region, said Dr. David Nabarro, WHO's head of crisis operations. WHO is unable to estimate how many people have died from violence, including militia and government attacks on villages or fleeing refugees, he said.

"We are running on a threadbare, hand-to-mouth existence, and if the plight of these people in Darfur is as important to the international community as it seems to be then we would have expected more long-term support," Nabarro said.

"The price is measured in death."

So far, the United Nations (news - web sites) has only received half of the $300 million it needs for Darfur, he said.

"I am personally concerned that we still don't have a significant enough popular perception around the world of the enormity of the suffering experienced by people in Darfur and Chad, where disease and suffering is being experienced on a quite extraordinary and inhuman scale," Nabarro said.

The United Nations and aid groups have called Darfur the world's worst humanitarian crisis.

Government officials in Sudan and at the country's embassy in Geneva could not be reached for comment Friday.

The Darfur conflict, originally a clash between African farmers and Arab nomads, has grown into a counterinsurgency in which pro-government Arab militia have raped, killed and burned the villages of their enemy. The government denies allegations that it supports the Arab militia, known as Janjaweed.

Sudan's government is accused of using the militias to put down the 19-month rebellion in the region the size of France.

The conflict has forced 1.4 million villagers from their homes. More than 200,000 have crossed into neighboring Chad, where tensions have risen because resources are scarce.

About 15 percent — or 10,500 — of the deaths in refugee camps resulted from violence, Nabarro said. Janjaweed surround the makeshift settlements.

Most of the remaining deaths in the camps were caused by diarrhea, fever and respiratory disease, Nabarro said.

Nabarro was unable to estimate the number of refugees who may have been killed before March. Several estimates have put the figure at 30,000 since the refugees began fleeing their homes in February 2003 when the Darfur conflict erupted.

Sudan's government has always denied the estimated death tolls, which have risen month-by-month. It calls them an exaggeration and maintains it is doing its best to protect the camps and improve living conditions.

It has never provided its own estimates except to say last month that about 200 policemen were killed in the fighting.

There have been some improvements recently in the camps: an outbreak of hepatitis E appears to have stabilized, there are fewer cases of jaundice and dysentery, and cholera in Chad has not spread to refugee camps, Nabarro said.

On Sunday, the U.N. World Food Program agency temporarily halted some Darfur operations after two staff members of the British group Save the Children UK were killed in an explosion. It also reported several attacks by armed bandits on humanitarian vehicles over the past week.

Some 1.2 million people in Darfur currently rely on food from WFP.

"We aim to be helping 2 million by the end of the year," WFP spokeswoman Christiane Berthiaume said Friday. "But these security incidents could prevent us reaching this goal."

On that front, Nigerian President Olusegun Obasanjo said the African Union will deploy 4,500 troops to Darfur by Nov. 30. The 53-nation bloc already has about 300 unarmed military observers there to monitor a regularly violated cease-fire.

AU officials previously said the force would expand to about 3,500 troops.

Peace talks to resolve the Darfur crisis are expected to resume in Abuja, Nigeria, later this month.


---
FAIR USE NOTICE: This page contains copyrighted material the use of which has not been specifically authorized by the copyright owner. GlobalIssues.Net distributes this material without profit to those who have expressed a prior interest in receiving the included information for research and educational purposes. We believe this constitutes a fair use of any such copyrighted material as provided for in 17 U.S.C § 107.

The World Revolution is an idea for a new, global grassroots social movement for progressive social change. It aims to resolve in a definitive and comprehensive manner the major social problems of our world and our era.

WORLD REVOLUTION HOME
Other Features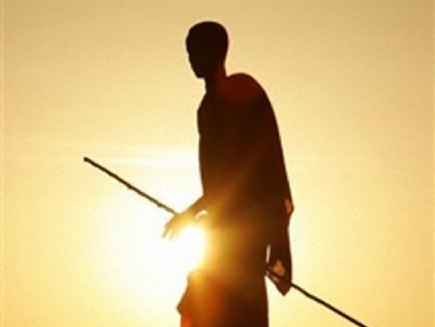 Millions on the brink of starvation in Horn of Africa - UN
Six million people are on the brink of starvation in the Horn of Africa region due to severe drought, crop failure and depletion of livestock herds, the United Nations said on Friday. The U.N.'s Food and Agriculture Organization (FAO) said that in Somalia, Kenya, Djibouti and Ethiopia more than 11 million people are estimated to be in need of assistance.

More features...