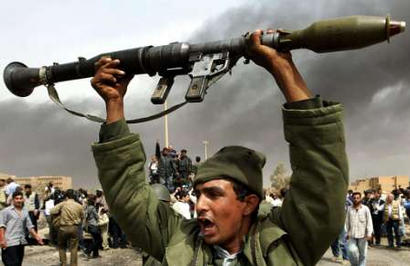 Small Arms and Light Weapons

Introduction & Overview

In-Depth Resource Guide


Other Topics

Small Arms and Light Weapons




Introduction
---
Small Arms
(U.N. Conference on Small Arms)

More than 500 million small arms and light weapons are in circulation around the world – one for about every 12 people. They were the weapons of choice in 46 out of 49 major conflicts since 1990, causing four million deaths – about 90 per cent of them civilians, and 80 per cent women and children.

A global threat to human security

Human security is under increasing threat from the spread of small arms and light weapons and their illegal trade. These were the weapons of choice in 46 of 49 major conflicts since 1990. They have devastated many societies and caused incalculable human suffering. They continue to pose an enormous humanitarian challenge, particularly in internal conflicts where insurgent militias fight against government forces. In these conflicts, a high proportion of the casualties are civilians who are the deliberate targets of violence — a gross violation of international humanitarian law. This has led to millions of deaths and injuries, the displacement of populations, and suffering and insecurity around the world.

Children are victims

Hundreds of thousands of children have been among the victims of small arms and light weapons. Many of them have been exploited as combatants and forced to participate in fighting.

Two million children have been killed in the last ten years in conflicts where small arms have been used; five million have been disabled; and twelve million left homeless.

Nobody is immune from devastation

No region, no country is immune from the devastating consequences of the proliferation of small arms and light weapons. While accumulations of these weapons by themselves do not cause conflicts, easy access encourages violence as an option to settle differences and tends to worsen the conflict and make it more lethal. Easy access interferes with development and relief assistance efforts, and endangers the lives of humanitarian aid workers, non-governmental partners and United Nations peacekeepers.

Illegal weapons fuel conflicts

An estimated 50 to 60 per cent of the world's trade of small arms is legal – but legally exported weapons often find their way into the illicit market. This includes leftovers from the cold war, especially in developing countries. In Afghanistan alone, there are some 10 million of these weapons; in West Africa, an estimated 7 million; and about 2 million in Central America. Arms stolen or captured from state security forces provide another major source of black-market supply around the world. In societies awash with illicit weapons, resort to violence leads to a vicious cycle of even greater demand for arms. The problem is compounded by irresponsible behaviour on the part of some States and lack of capacity to detect and seize illicit weapons by others.

Cheap weapons, big business

The illicit trade in small weapons means big business for dealers – no taxes or customs are paid, and the profit margin is enormous. Adding to the danger, the vast supply makes small arms increasingly cheap; in some areas of the world an AK-47 assault rifle can be bought for a bag of maize, or US$20-30. There is also an undeniable link between small arms and drug trafficking, resulting in a related security threat. This activity is underpinned by criminal organizations which deal in both commodities – weapons and drugs.

What are small arms and light weapons?

Small arms are weapons designed for personal use, while light weapons are designed for use by several persons serving as a crew. Examples of small arms include revolvers and self-loading pistols, rifles, sub-machine guns, assault rifles and light machine-guns. Light weapons include heavy machine-guns, mortars, hand grenades, grenade launchers, portable anti-aircraft and anti-tank guns and portable missile launchers.

While small arms and light weapons are designed for use by armed forces, they have unique characteristics that are of particular advantage for irregular warfare or terrorist and criminal action. Mortars and mounted anti-aircraft guns, for example, allow for highly mobile operations that often cause heavy casualties among civilians if used indiscriminately. The low cost of small arms makes them affordable to actors beyond the State. Small arms require almost no maintenance, so they can essentially last forever. They can be hidden easily, and even young children can use them with minimal training. Small arms and light weapons would not be lethal without their ammunition. Ammunition, explosives and explosive devices form an integral part of small arms and light weapons used in conflicts. Anti-personnel landmines are also considered small arms, but are not being dealt with by the upcoming United Nations conference on small arms as other international forums have taken up those weapons as a separate issue.